Deze les is een vertaling van Angelika en een les van Reny's Tutorials
Ik heb hiervoor toestemming gekregen van moonlightAngel Lisette.
De originele les is ©by Reny
Dank je wel Reny
This is a translated tutorial of Reny's Tutorials
I have received the permission to translate this lesson and to
place it on this website.
The original tutorial is ©by Reny
Thank you verry much, Reny
klik op de link voor de originele les
Filters:
Mehdi - Wavy Lab 1.1
Mehdi - Sorting Tiles
MuRa's Meister - Perspective Tiling
Background Designer IV - Kaleidoscope 3
Plugins - AAA Frames - Foto Frame
Benodigdheden:
1 Tube
1 Mistedtube
Deco
Plaats "Corel_15_031bmp" in de map van Corel_15 Corel_15_03, het kan zijn dat deze er standaard in staat
Mijn kleurenpalet:
1.Zoek uit je tubes 1 donkere VG, 1 lichtere HG en een derde kleur of neem de mijne.
Open een nieuwe transparante afbeelding van 850 x 600 Pixel
Effecten – Insteekfilter - Mehdi - Wavy Lab 1.1
Aanpassen – Vervagen – Gaussianse vervaging = 50
2.Effecten – Insteekfilter - Mehdi - Sorting Tiles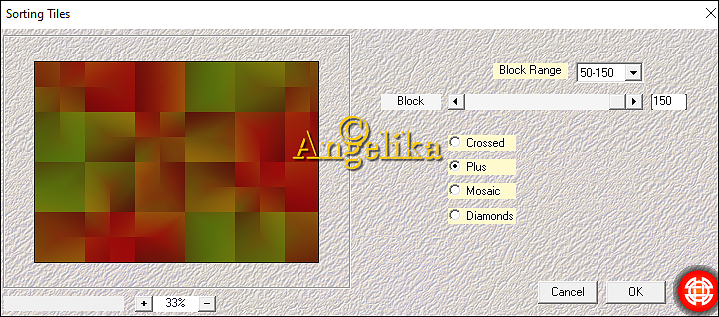 Effecten – Randeffecten – Accentueren
3.Effecten – Insteekfilter - Unlimited 2,0 Background Designer IV - @ Refractor
Effecten – Textuureffecten – Textuur – Blautanne
4.Lagen – Nieuwe raster laag
Vul met de 3. Kleur
Open "Narah_Mask_1071.png", klik op het min teken
Lagen – Nieuwe masker laag – Uit afbeelding
Effecten – Randeffecten – Accentueren
Lagen – Samenvoegen – Omlaag samenvoegen
5.Ga op de onderste laag staan
Lagen – Dupliceren
Effecten – Insteekfilter - MuRa's Meister - Perspective Tiling
Effecten – 3D effecten – Slagschaduw: -6/ -8/ 64/ 4/ Kleur: 000000
Ga op de bovenste laag staan
Open "Dekor01.png"
Bewerken – Kopiëren – Plakken als nieuwe laag op je werkstuk
6.Open "Dekor02.png"
Bewerken – Kopiëren – Plakken als nieuwe laag op je werkstuk
Schuif deze naar de linker kant, zie crea
Open "Dekor03.png"
Bewerken – Kopiëren – Plakken als nieuwe laag op je werkstuk
Schuif deze naar boven naar de rechter kant, zie crea
Lagen – Dupliceren
Afbeelding – Spiegelen – Horizontaal spiegelen
Lagen – Samenvoegen – Omlaag samenvoegen
7.Lagen – Nieuwe raster laag
Selectie – Selectie laden/opslaan – Selectie laden van schijf - Winter2020-Auswahl-LA_S91 2
Vul selectie met de VG kleur
Effecten – 3D effecten – Als knoop
Effecten – 3D effecten – Slagschaduw: 6/ 8/ 64/ 4/ Kleur:000000
Herhaal met -6/-8/
Selectie – niets selecteren
8.Zoek een mooi lettertype en schrijf een tekst naar eigen keuze
Effecten – 3D effecten – Slagschaduw:9/ 4/ 64 /4 Kleur:000000
9.Open jou Mistedtube
Bewerken – Kopiëren – Plakken als nieuwe laag op je werkstuk
Schuif deze mooi in het midden
Lagen – Eigenschappen - Mengmodus – stel deze naar eigen inzicht in eventueel ook de dekking
Afbeelding – Rand toevoegen – 1 Pixel zwart(000000)
Afbeelding – Rand toevoegen – 5 Pixel Kleur nr. 3
Afbeelding – Rand toevoegen – 1 Pixel zwart(000000)
Afbeelding – Rand toevoegen – 40 Pixel HG kleur
Selecteer met de toverstaf de brede rand
Effecten – Insteekfilter - Background Designer IV - Kaleidoscope 3
11.Effecten – Insteekfilter - AAA Frames - Foto Frame
Selectie – Niets selecteren
Afbeelding – Rand toevoegen – 1 Pixel zwart(000000)
Afbeelding – Rand toevoegen – 5 Pixel Kleur nr. 3
Afbeelding – Rand toevoegen – 1 Pixel zwart(000000)
Open jou Tube
Bewerken – Kopiëren – Plakken als nieuwe laag op je werkstuk
Schuif deze mooi naar het midden
Effecten – 3D effecten – Slagschaduw:-8/ -3/ 64/ 14/ kleur:000000
12.Vanaf hier kan je het werkstuk nog decoreren
Plaats je watermerk
Lagen – Samenvoegen – Alle lagen samenvoegen
Afbeelding – Formaat wijzigen naar 850 Pixel, alle lagen aanvinken
Aanpassen – Scherpte – verscherpen
Sla je werkstuk op als JPG
©MoonlightAngel vertaald door ©Angelik@december2020
Deze crea is door Truus gemaakt,
Truus, bedankt voor het testen van de les