Deze les is een vertaling van Angelika een les van Reny's Tutorials
Ik heb hiervoor toestemming gekregen van moonlightAngel Lisette.
De originele les is ©by Reny
Dank je wel Reny
This is a translated tutorial of Reny's Tutorials
I have received the permission to translate this lesson and to
place it on this website.
The original tutorial is ©by Reny
Thank you verry much, Reny
klik op de link voor de originele les
Wij gaan beginnen.
Ik werk met PSPX9. De les kan ook in lagere versie gemaakt worden.
Benodigheden zelf zoeken:
1 Tube
Achtergrondafbeelding ( voor de kleine afbeelding op crea)
Carnaval decoratie
Plaats de selectie in je map selectie van PSP
Filter
Xero-Improver
MuRa's Filters Master-Perspective Tiling
AAAFrames–Foto Frame
Filter Unlimited-Color Effects-Inverter
Mijn kleurenpalet
1.Kies een donkere voorgrondkleur en een lichte achtergrondkleur uit je tube.
2.Open een nieuw vel van 850 x 550 pixels - vul met dit verloop.
3.Aanpassen-vervagen-Gaussiaanse vervaging met 15.
5.Lagen-Nieuw rasterlaag
Zet
je kleur weer op voorgrondkleur.
Selectie - selectie laden / opslaan - selectie laden van schijf, zie print
Klik op laden.
Vul selectie met de voorgrond kleur.
6.Effecten 3D-effecten-Als knop-met deze instelling
7.Effecten-3D-effecten-Afschuining binnen met deze instelling
Selectie–Niets selecteren
8.Afbeelding-Spiegelen (PSP 19-Afbeelding-Spiegelen- Horizontaal spiegelen).
Schuif het element een beetje naar het midden. (Ik heb het zo neer gezet) zie print
Effecten - 3D-effecten – Slagschaduw, zie print
9.Effecten-Insteekfilters-Xero-Improver klik op (Landscape) Standaard, zie print.
10.Klik op de toverstaf in het midden van je frame.
(mocht de selectie niet tot stand komen, sluit dan de onderste laag)
Open je achtergrondafbeelding
Bewerken-kopiëren-bewerken-plakken in selectie
(open de onderste laag weer en ga op de frame laag staan)
11.Effecten-3D-effecten–Ciseleren, zie print
Aanpassen-scherpte-nog scherper
Selectie–Niets selecteren.
Vanaf hier kunt je het frame naar eigen smaak versieren
12.Open"Element 01"
Bewerken-kopiëren-bewerken-plakken als nieuwe laag
Verplaats de laag onder je foto laag–Raster 1
13.Open "Element 02" bewerken-kopiëren-bewerken-plakken als nieuwe laag
Dupliceren
Afbeelding - Spiegelen
(PSP 2019- Afbeelding - Spiegelen - horizontaal spiegelen.
Verplaats ze een beetje naar eigen wens.
Samenvoegen - omlaag samenvoegen.
14.Ga op raster 1 staan.
Dupliceren
Effecten-Insteekfilters-MuRa's Filters Meister - Perspective Tiling,zie print.
Effecten-3D-effecten–Slagschaduw
15.Open je tube
Bewerken-kopiëren-bewerken-plakken als nieuwe laag.
Plaats deze naar de rechterkant.
16.Effecten-3D-Effecten-Slagschaduwen met deze instelling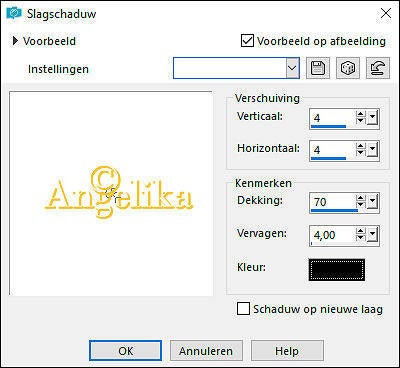 17.Ga de tube laag staan.
Open "Tekst met schaduw"
Bewerken-kopiëren-bewerken-plakken als nieuwe laag,
Ik heb de tekst laag een beetje verschoven en onder de raam laag verplaats.
18.Afbeelding–Rand toevoegen-1 pixel zwart
Afbeelding-Rand toevoegen-40 pixels met achtergrond kleur
Klik met de toverstaaf in de brede rand
19.Effecten-AAA-frames-Foto Frame met deze instelling
Effecten–Insteekfilter–Unlimited2,0–Color Effect-Inverter
Selectie–Niets selecteren
Zet je watermerk.
Afbeelding-rand toevoegen-1 pixel in zwart
Je les is klaar.
Sla je werk op als JPG.
©MoonlightAngel vertaald door ©Angelik@ 27/1/2020
Deze crea is gemaakt door Truus,Truus bedankt voor het testen van de les.